The benefits of an effectively executed organizational training program are well documented; improved employee performance, increased productivity, improved employee engagement and advocacy, reduced employee turnover, improved morale, and more.
Workforce development has also become increasingly essential in today's economy and competitive landscape.
Throwing money at training is easy, however achieving a return on that investment can be difficult. Which training is actually required? Which training will produce the biggest "bang for buck"? Which training can be deferred? More broadly, which training actually moves the needle on helping the business achieve its objectives?
Organizations that employ a skills-based approach are able to more efficiently and effectively deliver training programs that produce genuine and measurable impact, greater ROI, and strategic alignment.
To understand training requirements using a skills-based approach, it is first necessary to understand the skills of the workforce at a granular level. This provides an organization or department with a precise picture of exactly which employees have which skills, and makes gaps and strengths transparent. Using this information, organizations can map targeted training to gaps, factoring target skill levels assigned to employees' roles.
The objective is to optimize training expenditure by targeting the right training to the right people at the right time.
The importance of skills management
For organizations that rely on highly technical skills, processes or products, effective skills management is the only way to make sense of hundreds or thousands of skills across hundreds or thousands of employees. Having current and reliable skill information available in a timely manner is paramount in effective decision making for many of today's global businesses. Without it organizations risk "flying blind", making decisions based on assumptions, incomplete information, or gut-feel, risking inefficient and ineffective expenditure of the organization's scarce resources such as money and time.
However, this may still be viewed as progress in reporting and metrics. After all, any improvement is an improvement. But without proper attribution, improvement may not be reliable or predictable. In today's competitive landscape organizations are increasingly needing to act smarter and more efficiently in order to retain competitive advantage.
Finding the gold: Filling the key skill gaps
When an organization sets up any capability, for example Software Development, it generally has objectives it is attempting to achieve. These objectives could be to create a new software solution, enhance an existing solution in line with a roadmap, or to simply maintain business-critical solutions. In any case, these objectives will generally manifest as strategy documents, annual plans, and notably employee position descriptions, since any new hires for the new capability need to be able to positively contribute to the objectives of the organization.
But position descriptions are deliberately broad, industry-oriented, and as such usually non-specific to an organization's unique processes. Otherwise, the only suitable candidates would be ex-employees. Whilst broad position descriptions fill the need for recruitment activities, they are not specific or detailed enough in a skills management context to be able to add reliable and real value to decision making, particularly regarding workforce training.
A deeper dive is needed, firstly by identifying the granular skills that make up the specific abilities used daily by an employee that directly contribute towards achieving the objectives of the department and organization.
What constitutes a Skill?
The term "skill" can have many definitions as it is broadly used, however in the context of skills management, a skill is a granular learned ability possessed by a person, and especially the proficiency in performing or executing that ability. We say "granular", because when it comes to something like optimizing training, being specific really counts.
Once an organization has defined its granular skills, it is necessary to determine the current (actual) skill level for each skill and each employee. This is where things can get daunting, since organizations can easily identify hundreds or thousands of skills, and have hundreds or thousands of employees. A spreadsheet won't do the job here, however quality Skills Management software makes the task easy.
With current skill levels ascertained, target skill levels should also be set for each skill and each person (generally by role). The resulting difference between the current (actual) and target is the "Skill gap".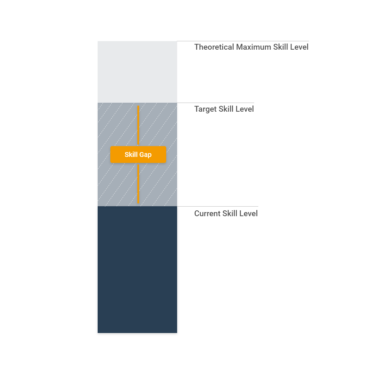 Targeting these precise gaps with specific training is where the advantage of using a skills-based approach to workforce training really excels. It ensures that training is not wasted:
Where proficiency exists and is already assessed and validated, and
Where training is excessive for the target skill level assigned to an employee (or role)
In short, training budgets are optimized and maximized by assigning training only to high-value targets that directly align with organizational objectives by strategically evolving the workforce accordingly.
The proof is in the results
Organizations that use a skills-based approach to training report a more strategically aligned workforce, with measurable improvements in skill areas that directly address organizational objectives. These organizations enjoy a more efficient training spend, as well as the benefits of a more transparent and objective approach to training delivery.